Become a part of our legacy.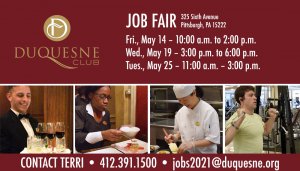 Thank you for your interest in employment at the Duquesne Club. We are committed to integrity and quality, maintaining positive relationships with our members and creating unforgettable memories. Our mission is to employ the very best.
A career with the Duquesne Club is an opportunity to learn from some of the best leaders in the hospitality industry. We are driven to provide superior, distinctive, professional and attentive service to our members and guests.
Let us know if you have what it takes to be a member of our exemplary team.
Positions listed require mobility and dexterity to bend, stoop, grasp, reach, twist, etc.  Depending on position, one would be required to stand/walk/sit during entire shift or incorporate all three activities into shift.  One must have the ability to lift 50 pounds as well as physical strength to pull equipment.  One must have ability to handle and work with chemicals safely and properly.                                                     
Please submit RESUME with experience/dates to terrik@duquesne.org
Dining Room Manager (Assistant) – Candidate would be overseeing the dining facilities located within the Club and ensuring that all aspects of operations are running smoothly. One should be detailed oriented and must be able to build relationships and develop a great rapport with the employees and members. One should be knowledgeable with "steps of service" in fine dining, motivating and training staff, scheduling, recruitment, etc. This is a union environment and one must become familiar with the contract binding agreement.
Dish Pantry (Full Time) – Responsibilities would include operating the automatic dishwashing machine, collecting garbage from various areas of the Club and transporting it to the rubbish area on the outside dock. One would need to examine garbage to ensure no plates or silverware was thrown away. Also, one is responsible for pulling Queen Mary trucks from foodservice areas back to the dish pantry. Other duties as assigned. One would be required to stand/walk during the entire shift and at times would be stationed at the dishwashing machine for hours at a time. Must be able to withstand varying temperatures as well as a hot/humid environment that is created from the dishwashing unit.
Cocktail/Library Lounge Servers (Part Time) – Candidate is responsible for taking and delivering drink orders. Drinks will be retrieved from bartender. Position is Monday–Saturday in the evening.
Cooks (Full Time) – Candidate should have the ability to demonstrate mastery of all stations in the kitchen showing creativity and taking ownership. One should be able to follow recipes and presentation specifications as well as follow sanitation and safety standards. Candidate should be knowledgeable of the fundamentals of cooking. Preferred candidate should be a graduate of accredited culinary arts program or apprenticeship program. Must be flexible with scheduling.
Food Runner (Part Time) – Candidate is responsible for running food to the various dining rooms in the Club. Food will be retrieved from the kitchen. Position is Monday–Saturday in the evening
Male Locker Room Attendant – needed on Saturdays from 7am – 2pm. The locker room attendant will provide service to our members as well as perform other responsibilities including stocking of towels, amenities, keeping the entire locker room area clean, shoe shining, etc.
Server – (Part Time) Candidate is esponsible for providing exceptional service to our executive clientele in a beautifully appointed suite, banquet room or dining room ensuring a memorable experience for each guest. Server must be able to carry a tray elevated at shoulder level weighing an average of 25 pounds. Guests are to be served according to the standards of service established by the club. Positions available for lunch (11-2) and dinner (4-10) shifts, Monday through Saturday.
Please submit RESUME with experience/dates to terrik@duquesne.org
4.6.2021