Fireside Chat

April 5th, 2021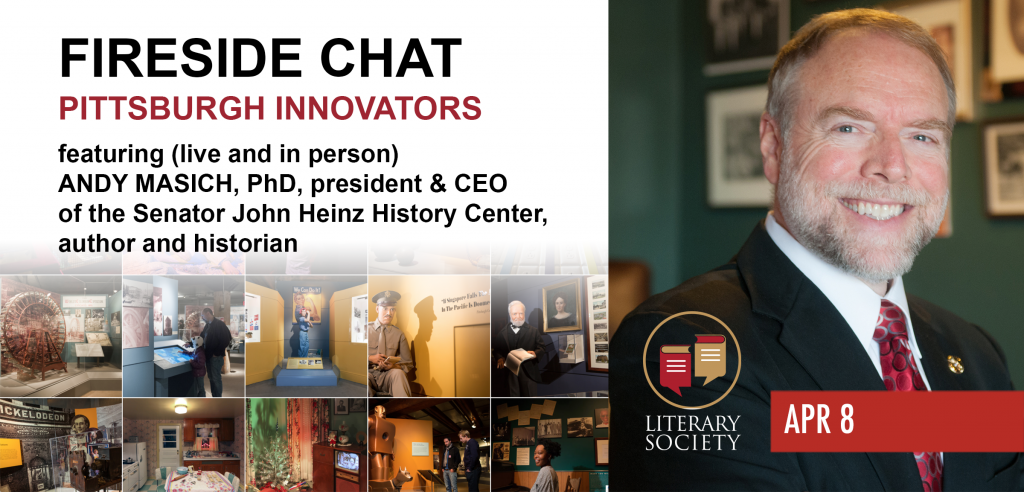 Thursday, April 8, 2021, 6:00 p.m.
FIRESIDE CHAT
PITTSBURGH INNOVATORS
featuring (live and in person) ANDY MASICH, PhD, president & CEO of the
Senator John Heinz History Center, author and historian
(sponsored by the Literary Society)
Pittsburgh is a city with a long tradition of innovation. Heinz History Center president and CEO, Andy Masich, will take us on a fast-paced journey through time while looking at innovators, famous and forgotten, and their work that changed our world in big ways and small. More than fifty innovations will be touched upon, as Andy regales us with a fascinating and fun look at Pittsburgh history.
Andy Masich is president and CEO of the Senator John Heinz History Center and a commissioner (former chairman) of the Pennsylvania Historical and Museum Commission. Under Andy's leadership, the History Center has been recognized for its award-winning exhibitions and innovative educational programs. He has forged strategic partnerships with the Smithsonian Institution, the Commonwealth of Pennsylvania, Allegheny Conference for Community Development, Boy Scouts of America, VisitPittsburgh, American Association for State and Local History, and 125 History Center affiliate museums in Western Pennsylvania. Andy is an adjunct Professor of History at Carnegie Mellon University and is a recognized authority on the preservation and interpretation of history. He has served on the American Alliance of Museums Accreditation Commission and as a faculty member of the prestigious Seminar for Historical Administration. Known for his extensive knowledge of Pennsylvania history, he has authored or co-authored award-winning books on a wide range of subjects.
The Literary Society presents Andy Masich Thursday evening, April 8. Join us for a safe gathering with attendees pre-seated at physically distant tables (arranged according to advance reservation requests). Plated hors d'oeuvres will be served beginning at 6:00 p.m., and beverages will be offered by signature. Andy's chat begins at promptly at 6:20 p.m. $25.00 per person.
Dress is Club casual. All members and their guests are welcome. Please specify if there are other attendees with whom you would like to be seated for the presentation. Otherwise attendees will be safely seated at separate tables. Reservations are limited to ensure safe seating. Make your reservation soon, as the February Fireside Chat sold out quickly.
Dinner reservations following the lecture are encouraged.

$25 per person
---